IMM COLOGNE 2019
New appearance. New sofa bench.
If something is comfortable and warm, we call it "cosy". A term which, in the first instance, doesn't exactly describe the hectic activity at one of the most important home furnishing exhibitions with 1,355 exhibitors from all over the world. And yet, at the 70th imm cologne this year, it was surprisingly "cosy" – at the Rolf Benz stand at least.
"Cosiness isn't necessarily tied to a specific place. You find it wherever you can relax. On your own, together as a couple, with friends, or even at a trade fair," according to Sebastian Labs and Gunther Kleinert from Hamburg design studio labsdesign, which designed the Rolf Benz stand as well as the new Rolf Benz VOLO couch range.
Design made in Hamburg
Designers and interior designers work hand-in-hand at labsdesign. The prize-winning design studio has frequently worked with Rolf Benz in the past. The creative professionals from Hamburg have designed coffee tables, armchairs, sofas, trade fair stands and the Rolf Benz loft at its headquarters in Nagold. However, entire urban villas, country houses, concept stores, restaurants and hotels such as Til Schweiger's "Barefoot Hotel" at the beach of Timmendorfer Strand also bear the signature of labsdesign.
"Whether it's a sofa or a town house, we love new challenges. Each project starts with an initial image in our mind, which gradually matures and quite literally takes on an increasingly concrete form. This is followed by lots of sketches, 3D models and studies. This continues until finally, all of the proportions are right," explains Sebastian Labs.
Cosy – and fully detached
With its new modular sofa system, Rolf Benz VOLO, labsdesign has once again provided a thoroughly convincing answer to the question of how a modern living environment can be cosy yet flexible and contemporary at the same time. Rolf Benz VOLO scores points not only with its extraordinary seating comfort but also the sense of pure lightness that it conveys. Its product name could hardly be more apt: "VOLO comes from Latin and means: I'm flying," says Labs. Indeed, owing to its graceful legs and streamlined ramp that serves as an elegant platform for the comfortable cushions, the sofa appears to float weightlessly in the room.
GUNTHER KLEINERT, DESIGNER, LABSDESIGN

"We wanted to design a casual and comfortable sofa that can be combined in different ways. Right from the start, it was important to us to make the high level of comfort appear as light and mobile as possible, not heavy or clumsy"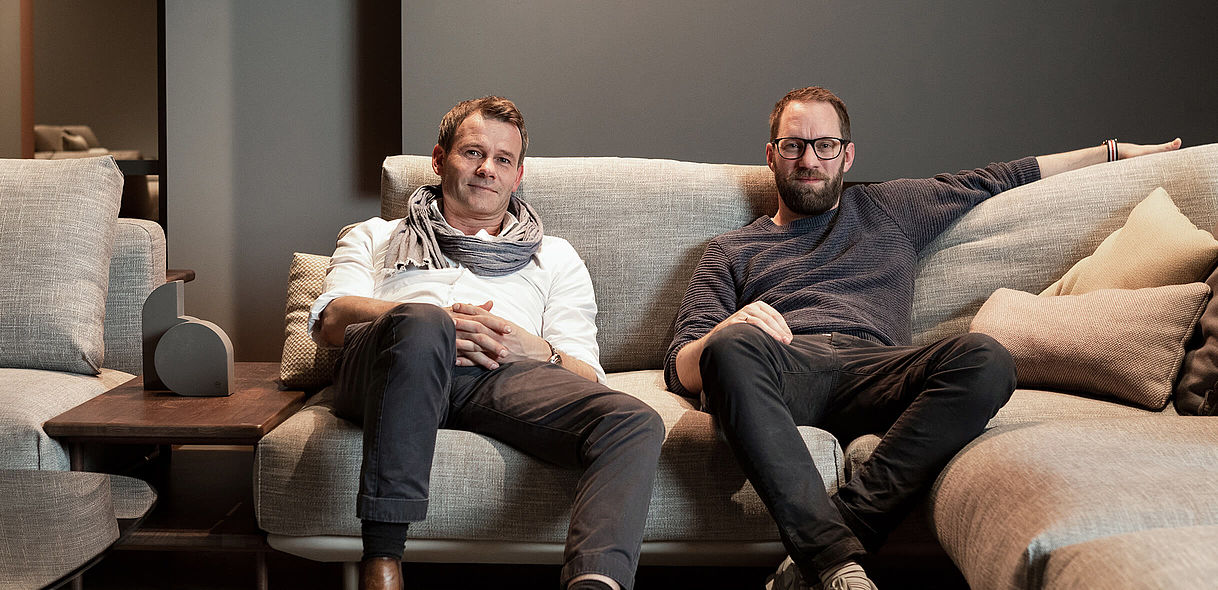 Sit as you are
Whether you sit upright or slouch casually, Rolf Benz VOLO adapts perfectly to individual seating preferences thanks to the newly developed cushions with an integrated back roll. An increase in comfort and cosiness that the visitors who come to the Rolf Benz stand to try out the furniture, as well as the makers of labsdesign, visibly enjoy. "It's the high degree of seating comfort and the well-thought-out design of the seating and back cushions that make VOLO so incredibly cosy," explains Labs.
"At the same time, the sofa has a great range of possible combinations. Depending on the space available, VOLO can be arranged as a single or modular sofa. Its uniform seat frame enables different modular seating landscapes to be created. And the covers for the body, frame, back cushions and back cushion rolls can be selected to create either a unified look or different colour and material combinations," adds Kleinert.
Sofa surfing for professionals
What is the personal relationship between the two designers and the sofa? "Sometimes I deliberately spend the night on the sofa. I personally find it really comfy. I think it goes back to when I used to sleep on the couch as a child in the school holidays, when I went to visit my grandma. Really happy childhood memories," says Kleinert.
"I like to get lost in thought when I have a bit of time and space, and a good sofa definitely helps with that," says Labs. Sebastian Labs counters our final question about his favourite sitting position with a question of his own: "You really want to know…?" He casually slips from the couch and remains seated on the rug in front of it with a grin on his face. Kind of another way of sofa surfing.
SEBASTIAN LABS, DESIGNER, LABSDESIGN

"I like to get lost in thought when I have a bit of time and space, and a good sofa definitely helps with that"